(If you already purchased updates on the Naviextras.com portal, you can skip these steps and continue with reading the How to download and install updates? Guide.)
After successfully connecting your device and logging in, you can start browsing maps and other extras in Naviextras Toolbox. Click on the "Shop" button in the menu bar on the left hand side.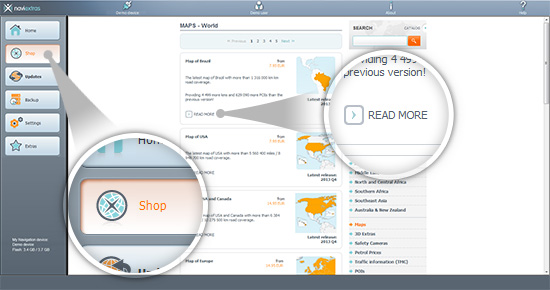 Available updates and extras can be filtered by geographic region or content type (map, 3D landmarks, etc.) on the right hand side. After filtering contents and regions there, you will see the list of compatible updates in the middle. The price is displayed next to the name of the package. If an update is available for you free of charge, this is also displayed here. (Please note that free updates provided by the device manufacturer are not shown in the "Shop". For these updates, check the HOW-TO GUIDE: How to install free updates in Naviextras Toolbox? guide.)
You can view additional details about the updates by clicking "Read more".
Please remember to check the compatibility requirements and the detailed product description before purchasing an item. If you decided to purchase an update, please check the next guide for details on buying and installing updates.